What's a Knowledgebase and How It Can Help Improve Customer Happiness
A knowledgebase is more than a collection of articles. A knowledgebase is a powerful tool that makes customers happier and can quickly reduce support inquiries by 33% (or more!).
A knowledgebase is sometimes called a support site or help desk, by any name, it's one of the best ways to improve customer happiness and reduce the support burden on your company. The original use of the term knowledgebase was to describe one of the two sub-systems of an expert system.
A knowledgebase can contain guides, tutorials, and answers to common customer questions about a business's products or services. It's a self-service portal which can be easily accessed by customers and internal employees alike.
The benefits of a knowledgebase include:
Fewer support requests to your inbox (we consistently see 33% fewer emails for most of our customers)
Happier customers
Lower costs (because you can spend less time and resources on support)
Better Customer Support
What's the first thing that comes to mind when you think about customer support?
Support agents answering tickets? On-site chat widgets where you can talk to a real person? Phone support?
Your customers don't want to call you for support
Your customers just want an accurate, relevant, and complete answer to their question upon first contact so they can get back to what they were doing before the issue arose. Our data backs this up: 53% of US online adults are likely to abandon their online purchase if they can't find a quick answer to their question; 73% say that valuing their time is the most important thing a company can do to provide them with good online customer service. ~ Forrester
How many steps do your customers have to take to contact you and get answers to their questions? Something that could have taken 10 seconds has now turned into 10 minutes or more of their time and yours. Why would you not make that process easier?

Your customers will be empowered to find their own solutions, feel accomplished, and appreciate your effort to make things as easy as possible.
Help your customers help themselves
Good customer service is critically important for any company.  Sometimes, the best solution enables your customers to help themselves by giving them access to immediate knowledge without requiring personal assistance.
A knowledgebase enables your customers to quickly and easily find the information they need to resolve issues themselves without having to engage you or your support staff. It creates a feeling of empowerment and ultimately satisfaction, because they get answers to help them better use your product (or service) or answers to help them decide to buy your products or services.
A knowledgebase saves time and resources on support
You and your companies time and resources, specifically.
"Lack of time" or "too much to do" or "not enough people" is the No. 1 problem we hear from the companies we talk to.
If it feels like you live in your inbox all day, well, you might be right. Workers use almost a third of their time at work reading and responding to emails.
Tired of answering the same support questions asked by multiple customers?  Every company has these types of questions that come up again and again.
A knowledgebase gives you time back. Without a knowledgebase, someone at your company (maybe you) will need to reply to similar questions getting asked over and over again by customers.
A knowledgebase is the answer
 Start by simply by documenting the top 5 to 10 questions you get asked by questions in your support inbox.

You may already have canned replies set up for some of these questions that you cut and paste into your responses.

When you only have 5 to 10 articles, you probably don't need categories. As you add articles, it'll make sense to add categories to help people find what they're looking more quickly.

Anything that comes up three times is probably a good candidate for a knowledgebase article. If that many customers are asking you about it, it's a signal that other users probably have the same question as well.
Adding content to your knowledgebase is simple. After logging in, and selecting manage knowledgebase, you would select New Article, at which point you  would be presented with a WYSIWYG (what you see is what you get) editor where your content can be typed or pasted into. The format, font size and other text attributes can easily be modified.  Another way to enhance your knowledgebase articles is by adding some images. Visual materials enrich your support content and keep customers engaged.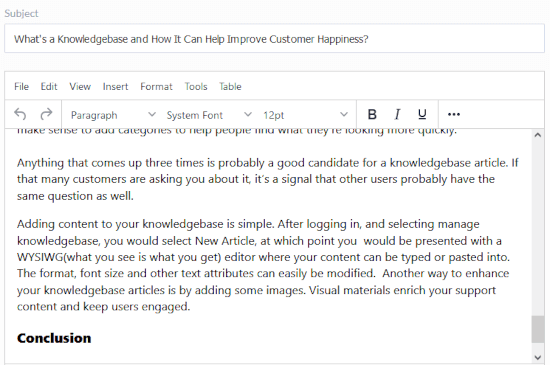 Conclusion
To immediately reduce the number of support requests you get from customers while improve customer happiness, get a knowledgebase set up for your business today.
It's one of the highest return on investment you can make. Contact us to get started or learn more.